Why the potential of vapour cloud explosions (VCE) within the textile industry is an emerging and underappreciated threat.
In November 2020, at least 12 workers were killed when part of a chemical warehouse collapsed following a blast in Ahmedabad, India. The explosion followed an even deadlier garment factory blaze in December 2019 in New Delhi, which left 43 dead.
These disasters are not unique. Throughout its history, the textile industry has been plagued with a relatively high exposure to fires and explosions, commonly caused by dust and fibre particles and/or faulty wiring.
But there is growing concern about the potential of vapour cloud explosions (VCE) within the sector. VCEs are explosions on a catastrophic scale and are more commonly seen within the petrochemicals industry.
"A vapour cloud explosion wipes out entire buildings.
It's a totally different monster."
"A dust explosion in a textile plant could be very small, and confined to a specific production area or room," explains Hiresh Das, assistant vice president, Asia Pacific Risk Management Group, Allied World Assurance Company. "A vapour cloud explosion wipes out entire buildings. It's a totally different monster."
"When it comes to dust exposures we know what we're dealing with, what to recommend and how to mitigate the risk," he continues. "But when you add on the VCE exposure, even in terms of basic underwriting classifications, it's a completely different beast."
"If a VCE were to happen in the wrong place at the wrong time, it would be devastating."
What is driving VCE exposure in textiles?
Within the textile industry, VCE is an emerging exposure driven by the longer-term shift from raw to synthetic materials, particularly in parts of Asia where garment producers are heavily concentrated.
The emergence of VCE exposure in the textile industry began a few years ago when some textile mills began to integrate plastic producing (polymerisation) plants, typically locating them on site. Due to the risks involved, this kind of set up is typically found in countries where there are not strict laws and safety regulations.
These changes in textile production, driven by the fact it is quicker and more efficient for manufacturers to produce their own plastic resins and fibres, has inadvertently also introduced VCE risk in some instances.
While relatively low frequency, VCE events are extremely high severity. While less common in the textile industry, the hazard is well understood and risk managed within the petrochemicals industry.
Disasters as far back as the Flixborough chemical plant explosion in the UK in 1974 led to fundamental changes in risk management. These events highlighted the vulnerability of adjacent control rooms, forcing the industry and regulators to reconsider the design and location of buildings near chemical plants.
As a result, subsequent VCE explosions (even the cataclysmic, e.g. Buncefield in 2005), while devastating from a physical damage perspective and an ever-present reminder of the loss potential, have not resulted in substantial fatalities.
But VCE is a new exposure for the textile and clothing industry and there is valid concern that risk assessment, control and mitigation could be lacking. Sites producing their own raw plastic may be too close to facilities that have a high occupancy, including the textile mills they are supplying, increasing overall vulnerability to loss.
"They are making their processes faster, simpler and more cost effective by producing their own plastics," says Das. "They don't have to rely on a third-party company or producer, which is great for efficiency."
"The critical question is, how are they doing it? Doing it safely, according to specific standards and safety protocols – not only for themselves, but for the industry and their neighbours as well."
Not just a physical risk exposure
As major events of recent times have shown, man-made catastrophes can cause significant disruption to global supply chains. It is therefore important to understand VCE exposure from a third-party risk perspective.
How might a VCE event impact suppliers – those directly within the textile industry as well as any supplier which may be located within close physical proximity to textile mills that have interconnected polymerisation plants on site?
The starting point for brokers and corporate risk and insurance managers is awareness of the exposure. With such high concentrations of risk in many of Asia's industrial parks, a catastrophic loss could impact multiple facilities with an impact that ripples across supply chains.
Lessons from major industrial accidents, including Tianjin in 2015, have demonstrated the importance of understanding concentrations of risk and potential vulnerabilities within the supply chain.
Risk and insurance managers should ask if they have any direct or indirect VCE exposures, what regulatory standards are in place and whether these have been adhered to.
Organisations must also consider the potential for reputational fallout. A major event that impacts an OEM producer, resulting in loss of life, can cause significant brand damage further up the supply chain.
Risk management considerations
1. Construction essentials
There must be adequate separation between building(s) that have exposure to VCE & those that do not. The determining factors involved include the type of construction materials involved, as well as the nature and volume of hazardous materials being stored and/or handled within the premises in question. A spatial separation of 50 metres or more is generally acceptable, provided the building is of adequate construction. Buildings should be constructed of wholly non-combustible and/ or fire resistant materials throughout, i.e. only involving concrete and reinforced concrete or masonry. Preferably, these buildings should be built to explosion resistant specifications (the main reference is NFPA 400 & NFPA 5000).
2. Explosion mitigation systems
There is a range of explosion venting and ventilation systems for buildings and machinery, from natural ventilation systems to mechanical/automatic ventilation and extraction systems. All should be considered. Automatic gas detection and alarm systems are essential, and would need to be custom-built according to the substances a specific plant is handling/storing. From a fixtures and support systems perspective, the installation of explosion-proof lighting, explosion-proofing of electrical wire, cable trays and conduits, and even automatic spark detection and extinguishing systems can all help mitigate losses.
3. Prevent the spark
The focus here is prevention of ignition sources. A good place to start is keeping up a robust and detailed maintenance plan for critical and support plant and machinery. This would include rewiring every 15 years or so, and replacement/ refurbishment of plant and machinery (where possible) every 25 or so years.
Other elements of good housekeeping include strict control of hot work and enforced rules on smoking within the premises. As always, it is a good idea to check the local requirements and regulations with a professional.
Check our more useful Risk Management resources on our risk control page.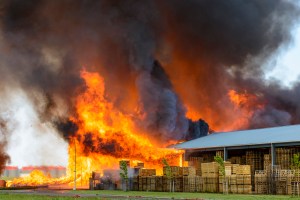 Related Posts
Learn more

Allied World Underwriters Share Top Tips for Supply Chain Risk Management

Learn more

SUPPLY, DISRUPTED: HOW SINGAPORE SHOULD PREPARE FOR THE NEXT CRISIS